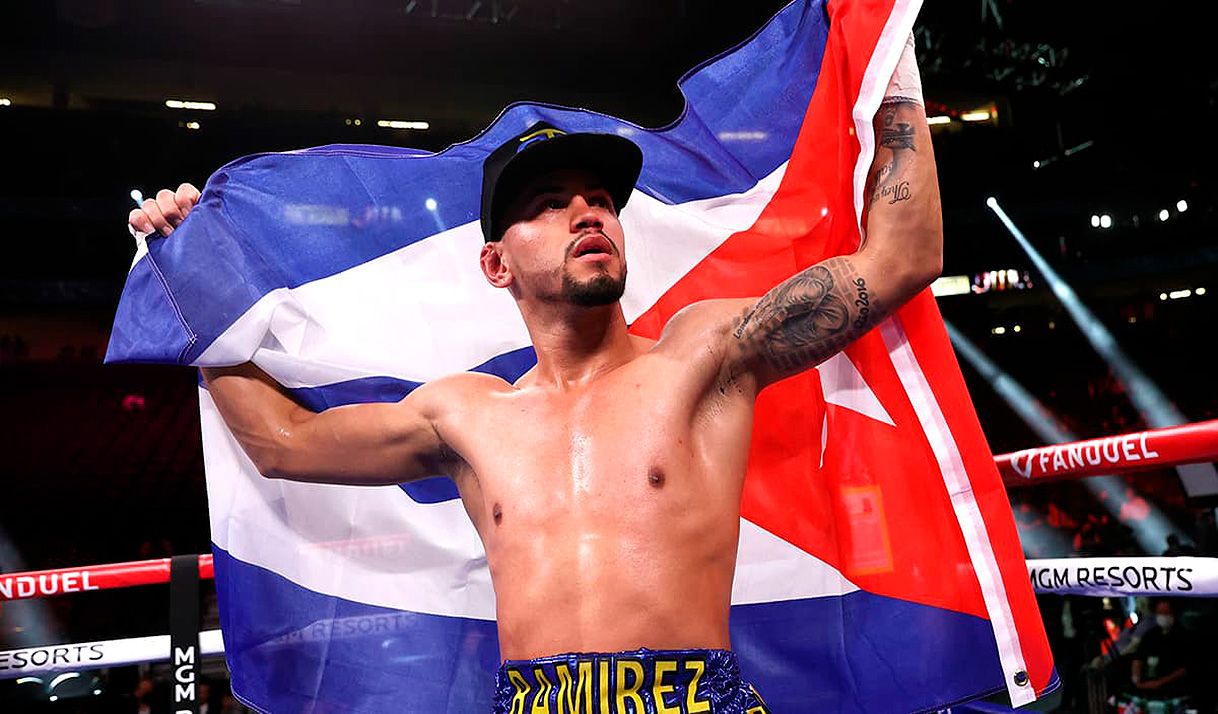 Robeisy Ramírez. Photo: Mikey Williams / Top Rank.
Cuban Gov. Tries to Punish Cuban Boxing Champion
25 / julio / 2023
Two-time Olympic champion Robeisy Ramirez from Cuba will defend his World Boxing Organization featherweight title in Japan, on July 25th 2023. His opponent will be Japan's Satoshi Shimizu. The fight is set for 12 rounds.
In the past few hours, the boxer from Cienfuegos and his team announced that personnel from the Cuban Embassy in Tokyo had contacted the TV channel that will broadcast the fight to ban them from playing the Cuban national anthem during the event. According to the champion's managers, the TV channel informed them that Robeisy could enter the ring with the US national anthem or another song. 
The boxer announced that he wouldn't walk into the ring with the US anthem under any circumstance because he is Cuban and his homeland and national anthem are Cuba. Nevertheless, he admitted that the Government's attempt to deny him using the Cuban anthem in this fight was a lack of respect; he said he didn't understand how Japan could cave in to such a demand.
Robeisy announced in a later statement that he also won't be able to carry the flag or wear shorts with the Cuban national flag during the fight.
The issues involved
Robeisy Ramirez's experience today highlights two key issues. The first is linked to the Cuban regime's disproportionate influence anywhere in the world – if you bear in mind the country's size and real economic capacity. A capacity that can not only be seen in the impact they have in other States' policy, but also at events and on private actors, like the people organizing the defense of the world boxing title. 
In 2021, NGO Archivo Cuba published a report "Cuba's excessive influence", which analyzes the Cuban State's excessive international presence. The document points out that Cuba keeps 126 embassies, 20 consulates and 43 diplomats working in the U.N., despite its economic situation.
It also underlines the fact that Cuba has 30 more embassies than developed countries with a similar sized population (Sweden, Belgium, the Czech Republic and Greece). Furthermore, the Cuban regime's international presence is greater than countries such as Canada (which has 106 embassies and 32 diplomates in the UN, despite having over 37 million inhabitants and being one of the top ten leading economies in the world).
Cuba's excessive presence in the international arena allows the State to pull strings, find spaces and contacts, demand favors and threaten using all kinds of actions to manage, for example, to stop a world-class boxer trained in the Cuban boxing academy from being able to use what Cuban bureaucrats understand as their symbols and not the Cuban people's. 
Second of all, the effort and paperwork needed to achieve a political and economically weak action for the Cuban system (such as stopping Robeisy from using the Cuban flag in a distant land to show his pride of being a child of Cuba), also proves that the prison sentences given to Luis Manuel Otero Alcantara and Aniette Gonzalez are purely vindictive. These vindictive interests affect Cubans both on and off the island, who are trying to reclaim their anti-Castrista and patriotic character with their talent.
The Cuban regime's behavior with Robeisy doesn't seek profits or to defend Cuban honor but is just to send a sign of power to its adversaries. The same sign they sent in early 2020 when Luis Manuel Otero Alcantara performed "Drapeau", where he used the national flag to cover his body during his everyday activities. Back then, Otero was imprisoned for 13 days, and a date was tentatively set for his trial; but he was later released thanks to a campaign led by civil society actors in Cuba and abroad.
Two years after his release, the Cuban authorities charged Luis Manuel Otero again and punished him for the same crime (indecent assault of patriotic symbols). He has been in prison since July 2021. 
It is also connected to the messaged sent by Diaz-Canel's Administration when, after a campaign ("La bandera es de todos" The flag belongs to everyone) led by Cuban activist Hector Luis Valdes Cocho to demand Otero's release, activist Aniette Gonzalez who lives in Camaguey, was sent to prison. Gonzalez posted photos of herself wearing the Cuban flag. She has been in prison ever since.
National symbols being refused as symbols to express political stances that diverge from the Communist Party is a policy that the Cuban Government has been pushing to further divide the country. Their actions don't answer to a nationalist or protectionist sentiment, but to the logic – which the State and its propaganda have repeated to death – that the Cuban authorities only consider "Cubans" (decent or born) those who are from the island, support their government or don't openly oppose it. 
A logic that has been cultivated over the years from the Government-driven conjunction of the concepts "Revolution" and "Homeland".
This article was translated into English from the original in Spanish.
Editor's note: The fight was held earlier today, July 25th in Japan. The following is the report from boxingscene.com
Robeisy Ramirez Stops Satoshi Shimizu In 5th Round, Retains WBO Title
By Jake Donavan (Boxing Scene)
Robeisy Ramirez enjoyed a quick turnaround to defend his title and didn't waste any time once he entered the ring.
The two-time Olympic Gold medalist retained his WBO featherweight title after a one-sided, fifth-round stoppage of Yokohama's Satoshi Shimizu. Ramirez floored the first-time title challenger before an ensuing flurry forced the stoppage at 1:08 of round five in their ESPN+ aired co-feature Tuesday from Ariake Arena in Tokyo. 
The all-southpaw battle saw Ramirez immediately close the gap versus the 5'11" Shimizu. Uppercuts managed to break through the tight guard of the first-time title challenger, who later drew cheers after landing a straight left. Ramirez targeted the body early with his right hook before bringing the attack upstairs.
Momentum remained with the visiting titlist through round two. Ramirez stood at close range and fired off right hooks downstairs and straight left hands up top. Shimizu was forced to play defense after taking a left on the chin, which Ramirez later followed with left uppercuts. 
Shimizu enjoyed early success in round three with a straight left from long range. Ramirez quickly adjusted and went on the attack. The uppercut continued to split Shimizu's guard, to which Ramirez followed with left hands before returning with the shot that produced his greatest success.
It would also produce the end of the fight.
A series of left uppercuts wobbled and eventually floored Shimizu early in round five. The battered challenger beat the count but was leaking blood from the nose and barely able to defend himself. Ramirez immediately followed up with a two-fisted attack before referee Ramon Pena was forced to rescue Shimizu (11-2, 10KOs) from absorbing any more punishment. 
Final Compubox stats illustrated the one-sided destruction. Ramirez landed 100-of-227 total punches (44.1%), including a staggering 58.9% connect rate on 86-of-146 power punches. Shimizu was just 22-of-187 (11.8%) in total punches, and 14-of-119 (11.8%) with his power shots.
Ramirez stormed to 13-1 (8KOs) with the win, which came less than four months after he claimed the WBO featherweight title. Ramirez outpointed former WBO 122-pound titlist Isaac Dogboe via twelve-round, unanimous decision on April 1 in Tulsa, Oklahoma. 
It also came as he continues to combat discrimination from his homeland. Ramirez still proudly flies the Cuban colors to honor his roots, despite the continued and recent efforts by his nation's dictatorship. It was revealed by the boxer that Cuban officials called the embassy prior to Monday's weigh-in to insist that neither its flag or anthem was on display on fight night. 
Ramirez—who defected to the U.S. prior to his pro career—continues to fight that good fight outside the ropes. In the ring, he extended his thirteen-fight win streak following a stunning split decision defeat in his August 2019 pro debut. Ramirez dropped a split decision to Adan Gonzales, whom he defeated via six-round shutout in their rematch just eleven months later.
Today, the South Florida-based southpaw serves as one of the best featherweights in the world. 
On the undercard, Kanamu Sakama (8-0, 7KOs) remained perfect after an eighth-round stoppage of Tokyo's Ryu Horikawa (3-2-2, 1KO) in their junior flyweight bout.
https://d380f640fb60e08640c818fb6568f960.safeframe.googlesyndication.com/safeframe/1-0-40/html/container.html Headlining the show, Stephen Fulton (21-0, 8KOs) puts his WBC and WBO junior featherweight titles at stake versus former three-division champ and pound-for-pound entrant Naoya Inoue (24-0, 21KOs). 
If you believe that our journalism is important for Cuba and its people, we want you to know that this is a critical moment.
Behind each publication there is a team that strives to ensure that our products meet high quality standards and adhere to professional and ethical values.
However, to keep a close watch over government, demand transparency, investigate, analyze the problems of our society and make visible the hidden issues on the public agenda is an effort that requires resources.
You can contribute to our mission and that is why today we ask for your help. Select the way you prefer to send us a donation.