Martha's mother suddenly passed away three months after her daughter arrived in the United States. She died home alone, of a heart attack, Martha's boyfriend Alex told her.
He took care of his mother-in-law's funeral arrangements in Placetas. "Olga was fifty-seven, it wasn't her time to go," Alex says. "I come to the house on the weekend and pick up some of her things that we're giving away to friends and family, and to open up the windows a little." He videocalls Martha on those days, who guides him through the process.
Martha and Alex have been in a relationship for almost four years, which they are still holding onto six months after she left the country. However, Alex feels like the pain of her mother's loss and the distance that stops them from going through this difficult time together is weakening the relationship a little.
Even so, they are both holding out to stop this love, that has made them so happy all these years, from dying. That's why they talk every day, they dedicate songs to each other and even send "sexy selfies" sometimes. "I do everything I can to keep the spark," Alex says.
The latest migration wave of Cubans has put relationships to the test, whether these are between family members, friends or couples. The tough situation people still on the island have to endure and the changes people who leave experience aren't always understood by both parties. It works for some, and it doesn't work so well for others.
Doomed to separate?
Ruben Dario Luis had been in a relationship for four years when he decided to leave for the United States with his brothers. His partner didn't agree with the separation. Leaving the country was never in their plans.
"But things change very quickly and living in Cuba became unbearable," Ruben Dario says.
He tried to keep the relationship with Monica "alive" in the beginning, but they both began to drift apart. They went from calling each other every day to writing a couple of times a week. The messages or voice messages got shorter and shorter; they were an obligation almost.
They went on like this for three months, until Monica decided to end the relationship.
"It's been a year since I left. I took down all my social media profiles in November when I saw she had a boyfriend," Ruben Dario says. "Even though I don't feel the same way, seeing her rebuild her life did hurt me a little. I guess I'll end up doing the same thing too, at some point. You need a partner by your side here just as much as you do in Cuba."
However, there aren't any statistics to prove that long distance relationships don't work, or the opposite in fact. The lack of physical contact, feelings that might arise such as jealousy, fear and uncertainty, and the time apart are some of the obstacles that couples identify as the hardest.
Nevertheless, distance can help resolve conflict and crises, and honest and healthy communication can help long distance relationships stay clear of becoming toxic or controlling relationships. "Feeling free in a relationship is normal," Spanish psychiatrist Luis de Rivera says.
A study published in the Journal of Sex & Marital Therapy confirms that being in a long-distance relationship isn't necessarily a bad thing.
Results indicate that "individuals in long distance relationships aren't at a disadvantage, and it's a person's and relationship's traits that predict its quality.
It's hard, but necessary a lot of the time
"This is one of the hardest tests I've ever had to go through ever since we made the decision up until now. We still don't know when we'll be back together again," Tamara Liss says.
Tamara and Raul Oro, her husband – who reached the United States in 2022 -, had everything most Cuban couples long for: a solid relationship, their own apartment, well-paid jobs and future projects.
"But then the Economic Reforms began and our dreams of forming a family began to slowly crumble. How can we think about having children in a situation like this?" she says.
When he received the proposal to make the journey north starting via Nicaragua, they didn't think twice. They'd had plans to go together before, but there are some opportunities you can't let slip. Even though they knew they had to take the step, they couldn't even imagine the tearful farewell.
"It went all so fast. We didn't have time to really clock what was happening, what we'd feel the day after the flight, the crying late at night, the last kiss, seeing him drive off in a taxi, the lump in my throat that's still there," she says.
"She was the only one who knew I was going to make the journey from Nicaragua," Raul says. "On top of our concerns about the uncertain journey, we had to also lie to loved ones because we didn't want to worry them."
Tamara says that the last four months seem like years. During this time, lots of things have changed for him: new people, landscape and different lifestyle habits, new experiences. While Time seems to have stopped for her sometimes, even though she's learnt more about herself. She knows that the durability of their relationship depends on both of them, but she admits that it's harder for the person who's left behind.
"I've been jealous, really jealous, and I've been afraid that time and distance might somehow hurt our relationship, which was always so strong and invincible to me."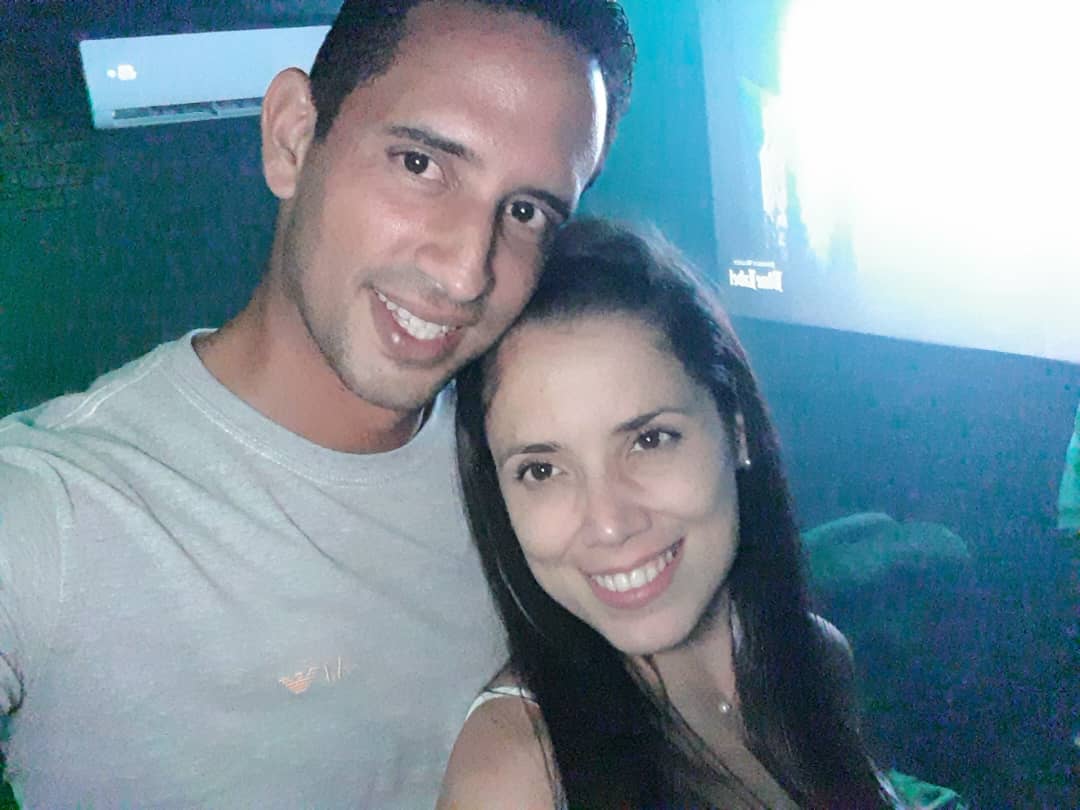 Broken families
You can hear the sadness in Dailyn Perez's voice messages on WhatsApp. While taking advantage of the interview to let everything out, she takes small breaks to keep her sobs under control. A lot, too much, has happened in the past few months: her father passed away, she left her husband David and their son Danilo behind, discovered she was pregnant just a few days before embarking on the journey from Nicaragua, giving birth in a new country and place, surviving the – physical – rupture of her family.
Their love has known – and overcome – distance before. She spent some years as a collaborator in Venezuela; then, he worked over 400 kms away from Las Tunas, in the Villa Clara cays. They couldn't keep the promise they made each other that those would be the last years they'd spend apart.
They knew it would be hard when they made the decision, but they never imagined just how hard it would be. "David – and Danilo and Darian – the two children that came later – are the best things that have ever happened to me. I'm not exaggerating or being mushy," she says over and over again.
Dailyn and David's relationship began as a good friendship when they were both students, and they've been going 11 years strong now. Even though they aren't the type to celebrate February 14th, it's hard for both of them not to think above their love on a day like this when they are forced to be apart.
That's why being so far away from her best friend, the father of her children, the person who as a father decided to support her decision, has been a "terrible burden to carry."
"The hardest thing wasn't crossing Nicaragua, Honduras, Guatemala, Mexico. The Mexican National Guard literally took me from the hands of kidnappers because I was going to be kidnapped in Mexico. None of that has been hard. Not even spending my birthday or New Year's on my own," she admits.
"The hardest thing of all," she says, barely containing her sobs, "is still seeing my husband and son on a screen."
Dailyn says that communication and trust are the greatest strengths of their relationship, which they've managed to keep alive with text messages, voice messages and videocalls on WhatsApp.
The new humanitarian parole program is the hope that they'll be able to be together as soon as possible. Waiting for a response for over a month, she admits that they are both sad, anxious, "but he is incredibly still giving me strength; that is to say, he's crushed and he is still trying to cheer me up."
Plus, she says that "ever since the baby was born, she hasn't been able to overcome sadness, despite the happiness that also came."
A happy ending is possible
Every relationship dreams of a happy ending. There aren't any statistics to prove that distance ends love, although there are songs, books and poems that say it does. There are also songs, books and poems that tell you how distance has made relationships stronger.
While I admit it is hard, we know that it's going to be worth it, for us, for our family, for the family we want to create, and because nothing has been easy for us and that has somehow made our story all that much more beautiful," Tamara Liss says.
Like Daylin and David, she is hopeful that the new humanitarian parole program will let her be reunited with Raul. Even if this means leaving her family and friends in Cuba.
In the meantime, she is choosing to reinvent and nourish the relationship she's had for years. Although, as her husband Raul says, "I miss her a lot."
"Right now, the only way we can show our love is with words, calls, videocalls, on social media. We are grateful we have technology to still check in with each other, support each other, even with the distance," Tamara Liss concludes.
Dailyn has the same faith and hopes, every day, that she receives news that her son Danilo and husband David will soon be at her door, to hug her and the newborn Darian Donell.
"The good thing about marrying your best friend, or making your husband your best friend, even with distance, the sadness, desperation, even with this decision I made, he continues to give me strength every day and tells me he loves me and that he can't live without me."
 Like U.S. essayist Ralph Waldo Emerson wrote: "It isn't a matter of the longitude of distance; it's the strength of your love."
This article was translated into English from the original in Spanish.
If you believe that our journalism is important for Cuba and its people, we want you to know that this is a critical moment.
Behind each publication there is a team that strives to ensure that our products meet high quality standards and adhere to professional and ethical values.
However, to keep a close watch over government, demand transparency, investigate, analyze the problems of our society and make visible the hidden issues on the public agenda is an effort that requires resources.
You can contribute to our mission and that is why today we ask for your help. Select the way you prefer to send us a donation.